Use this forum with your favorite social networks!
Site Admin
Posts: 105
Joined: Mon Mar 08, 2021 4:14 pm
Country/Land: DE-Germany
Contact:
War in Ukraine 8 months summary, state of Ukraine infrastructureRussia is losing the war!
Theirs force unable to push further into Ukraine territory.
Still Russia have many military rockets which destroys Ukraine power plants and the infrastructure
,
Russia unwilling to acknowledge the utter and full defeat
, so as cowards as they are they use old soviet junk to punish Ukraine for theirs defeat!
Just look at the pictures of destruction in Ukraine and you will feel the pain and the ugly aggression towards Ukraine.
Here in EU and in Germany we do everything possible to stop and defeat Russia!
Some Germans , still believe that helping Ukraine is wrong
, in my opinion
those fellow Germans are stupid and dumb
, and don't realize that
we NATO already in real hot war withRussia.
LET ME SAY IT AGAIN : WE EU/NATO ARE ALREADY AT WAR WITH RUSSIA!
Amount of the computer systems, which my German company personally attacked in Russia can be imagined like 100 floor tall building , where each floor and department  already compromised and defunct and beyond repair!
I feel very honorable that we managed to attack Russia at such level, that even theirs new agencies stated obvious fact:
" that in last 6 month of 2022 the percentage of cyber attacks towards Russia reached 180% , which is more than in all recent years."
I can only make following statement:
that if the war against Ukraine continues all hacker groups around the world and western NATO cyber ops will reach such point that a major Russian power plants will be compromised and there will be no point of return and hackers will disable the cooling system of those nuclear power plants in Russia, causing 100% damage of Russian territory and as result irradiating millions of russian population!
People It's getting out of control , Russian computer system's never ever had such threats , they will crash and defunct in a big explosive event!
So really, we will cross this point, to those who think that negations with Russia are possible, well you don't realize and you dont know
how far we did attacked Russia
and god have mercy on us , but Russia will be defeated one or another way! 
For Russians as result of putin war it probably would look like that (highly poisened radiation) and deaths in large amount from nuclear fall!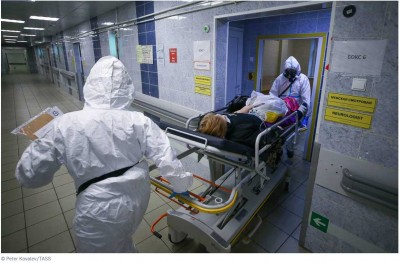 HONESTY - RELIABILITY - INTELLIGENCE
I love to

write

and

configure software

and i love testing, software quality very important to me.
Test driven development is my main tool to solve all software engineering problems!
I work by the agile manifesto: working software over comprehensive documentation.
Read article about my company workflow!